Accommodation
Our rooms fully comply with the new Boarding Establishment Regulations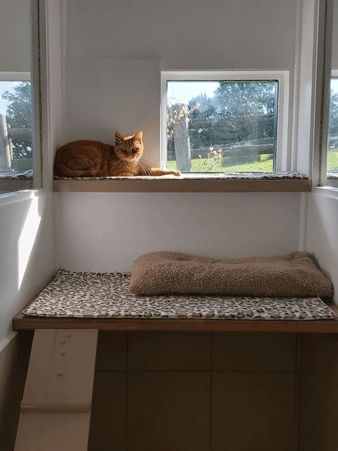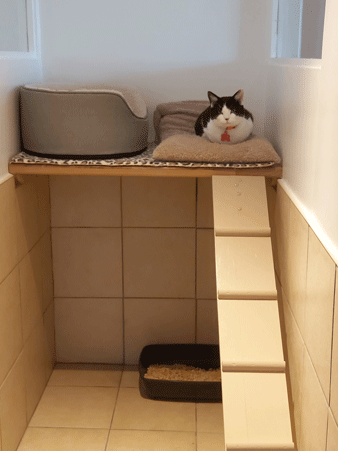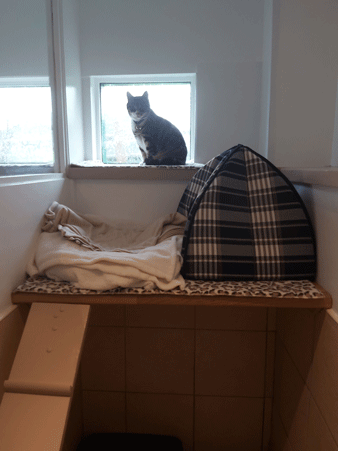 Each room contains Thermal Bedding, Bed, Scratchposts / Cat Tree / Tunnel & Toys
Litter Trays, Cat Litter & Feed Bowls are provided
Decorated to give homely environment
Window with views of small holdings animals and the surrounding Valleys
Food & Water down at all times unless otherwise instructed
Heated throughout
Each house has its own light
Food is included with the exception of medicated food i.e. Vetenary Prescribed Food

We want your cat to feel comfortable, relaxed and at home whilst staying with us. We have designed the rooms and layout to suit every temperament, whether your cat likes to see everything that is going on around them or is more the quiet type!
The rooms are separated by solid walls with large partition glass windows to allow lots of natural light. 7 rooms have additional external windows which have shelves for viewing the surrounding area. The floors & walls are tiled with suitable materials to maintain the highest standard of hygiene.
The sleeping areas are spacious and elevated with a solid ladder to reach them. Additional facilities can be put in place to assist reaching the sleeping areas should your cat be disabled or have arthritic conditions etc. We use the highest quality vet bed which has deep pile, retains heat and has thermal properties ensuring your cat is comfortable and warm at all times. Owners are more than welcome to bring their own bedding.
Each room has its own ceiling light and the cattery is fully heated and temperature regulated.
Litter trays and feed bowls are provided.
All room are spacious, bright and well ventilated. We have 4 rooms which can house up to 4 cats and 5 rooms which can house up to 2 cats.
Viewing welcome!